Temperatures are set to fall as low as -10C, with snow forecast for London, the South East and Scotland – while a "huge operation" is under way to contain flooding in areas affected by recent rain.
The Met Office has issued a yellow warning for ice across the centre of the UK covering all four nations, hundreds of flood warnings are in place, and temperatures are due to drop below zero in most places overnight.
Snow showers are predicted to hit northern areas, with hill snow developing in central areas and rain sweeping the south.
Temperatures are expected to plunge overnight to -2C in London, -1C in Cardiff, and -3C in both Edinburgh and Belfast, while Highland areas of Scotland could see -10C.
Check the forecast in your area
The Met Office issued a lengthy warning for snow and ice for northern Scotland from Sunday to Wednesday.
"A few centimetres of snow are likely at low levels over a given 24-hour period, with the potential for 10-15cm above 200 metres, especially across parts of the Highlands," it said.
"Ice will be an additional hazard, especially Tuesday night."
Residents have been urged to be careful of icy patches on untreated roads, pavements and cycle paths, and longer journey times by road, bus and train services are likely.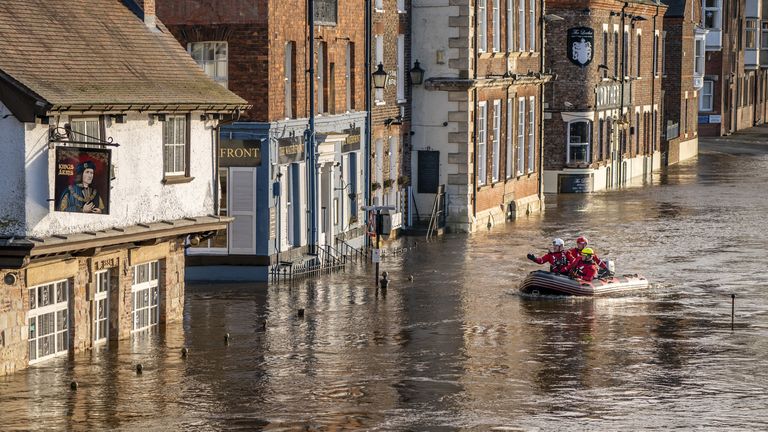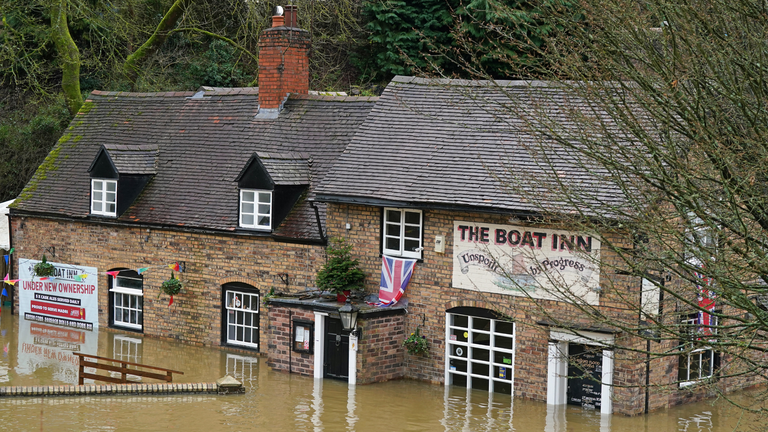 The Met Office said in a statement: "By Sunday most of the UK will be in the northerly airflow, with lower temperatures spreading further south overnight.
"Showers will fall increasingly as sleet and snow in the north, even to lower levels. Some showers further South and West, and perhaps a more persistent spell of rain overnight into Monday, could also turn to sleet and snow mainly over high ground such as the Brecon Beacons, Exmoor and Dartmoor.
"Overnight frost will become more widespread by Monday night, with overnight temperatures below 0°C across much of the UK. Temperatures could get down to -10°C in sheltered glens, or across high ground areas of Scotland where there is lying snow."
Click to subscribe to ClimateCast with Tom Heap wherever you get your podcasts
The cold snap comes after widespread flooding left big parts of the country submerged in the past week.
Ian Withers, an Environment Agency worker for 30 years, said a "huge operation" is under way to control overflowing rivers in Somerset – an area particularly prone to flooding because it is below sea level.
Mr Withers said that water levels in several rivers are currently "higher than the land around them" and surrounding moors are being used as "reservoirs" to contain the overspill.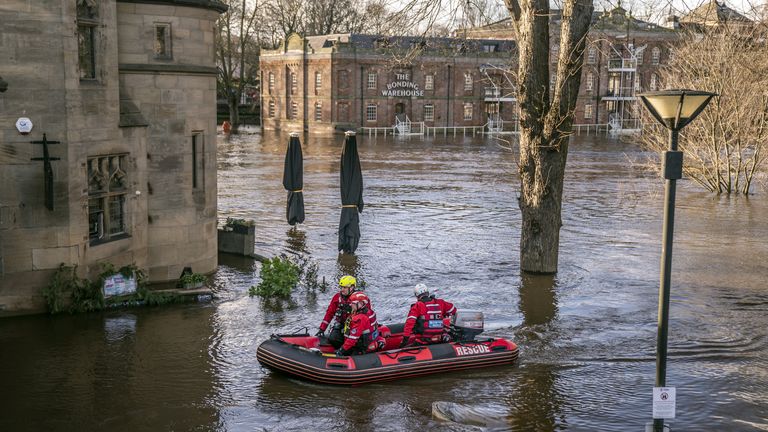 The duty manager for the Wessex area said: "The situation at the moment is, catchments are just extremely wet and saturated.
"I think we've seen the worst of this wet weather pass through and we've got a few more settled days ahead which is really helpful.
"But as a consequence of all the rain we've had over the last week or so, the big rivers – the Severn, the Avon, the Wye – they're so full with water, and that water has now got to work its way out of the estuaries into the sea.
"While they're still high those pockets of flood risk will remain."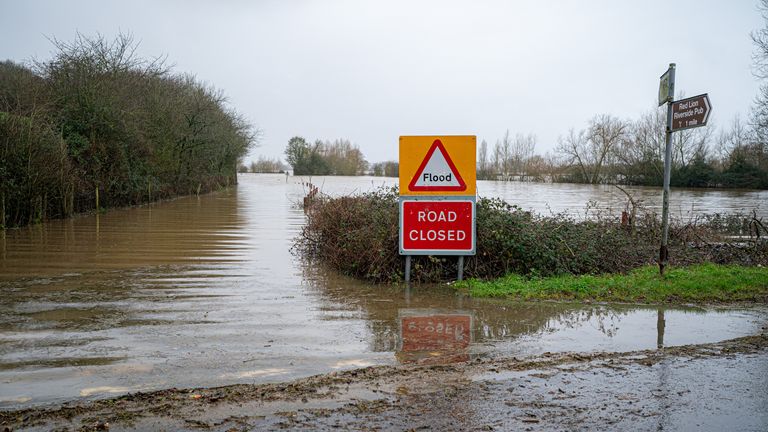 The Environment Agency had 90 flood warnings, meaning flooding is expected, and 152 flood alerts, meaning flooding is possible, in place as of the early hours of Monday morning.
Earlier, flood defences, including boarding, were deployed in York.
City of York Council said it had taken the measure to keep the area "safe and open" as it urged visitors to plan their journeys in advance.
Rescue workers used a boat to navigate the floodwater in the centre of York after the River Ouse burst its banks.