Flood warnings are in place across a swathe of the UK, with the wet and windy weekend coming hard on the heels of recent heavy rain.
Temperatures are also set to drop by Sunday, bringing a chance of snow, sleet and ice in parts, causing disruption.
Some 107 flood warnings and 181 alerts were issued for England on Saturday afternoon.
UK weather: The latest Sky News forecast
In Wales, there were seven flood warnings and 34 alerts, while in Scotland there were two and seven respectively.
The Met Office has issued a separate yellow weather warning for wind and rain covering parts of Northern Ireland and southern Scotland until early Sunday, where gusts on the coast could reach up to 70mph.
Andy Page, from the Met Office, said: "After what has already been a wet start to January, further wet and windy conditions will move across the UK this weekend.
"With the ground already saturated in parts of the UK this additional rainfall could bring disruption, particularly in the West."
As low pressure moves away into the North Sea, it will pull down cooler air into Sunday, leading to lower temperatures and the likelihood of widespread overnight frosts and northerly winds generating a notable "wind chill".
In some parts of Scotland, readings could get down to -10°C.
The prospect of the return of wintry weather has led to a yellow warning to be issued for ice covering much of Scotland and northern England.
A warning of snow and ice remains in force for the far north of Scotland until Wednesday.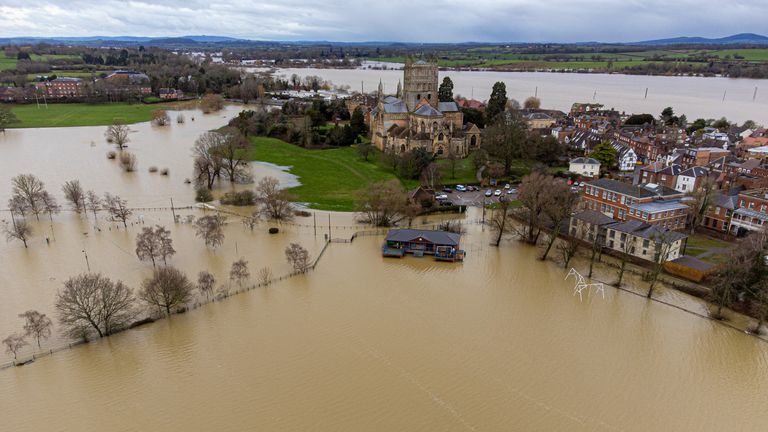 Meanwhile, some showers in the South and West could also turn to sleet and snow, mainly over high ground such as the Brecon Beacons, Exmoor and Dartmoor.
The public have been urged to take care as there may be icy patches on untreated roads, pavements and cycle paths and some roads and railways are likely to be affected.
However, the cold spell is expected to be short lived, with milder air moving in from the Atlantic bringing wet and windy conditions back to the UK towards the end of the week.