It's more than a week since a couple went missing with their newborn child and police say they are "growing increasingly concerned" for their welfare.
Constance Marten, 35, and Mark Gordon, 48, were first reported missing after their car broke down on the M61 near Bolton on 5 January.
Since then, Ms Marten and Mr Gordon are thought to have travelled to Liverpool, Essex and London.
Officers are still attempting to trace the whereabouts of the couple and their baby.
Here, Sky News looks at what we know so far about the search.
First reported missing
Greater Manchester Police (GMP) released an appeal on Friday 6 January for information on the whereabouts of the couple and their baby.
They said the couple were last seen the day before, on Thursday 5 January, after breaking down near to junction four of the M61 near Bolton.
The force said they had evidence suggesting Ms Marten had "very recently given birth, and neither her or the baby have been assessed by medical professionals".
The couple left the car and walked towards Anchor Lane bridge, which links the Highfield and Little Hulton areas, at around 6.30pm.
They are believed to have paid in cash to travel first to Liverpool and then to Essex, possibly by taxi, according to the Manchester Evening News.
Police appealed directly to Ms Marten, saying their "number one priority" is to keep her "beautiful newborn safe".
GMP also insisted officers "do not wish to interrupt their family life".
Sightings in Essex
Police reported there had been a "number of sightings" of the couple in Essex.
GMP, working alongside Essex Police, released CCTV showing someone they believed to be Ms Marten in a red shawl outside Harwich Port at 9am on Saturday 7 January.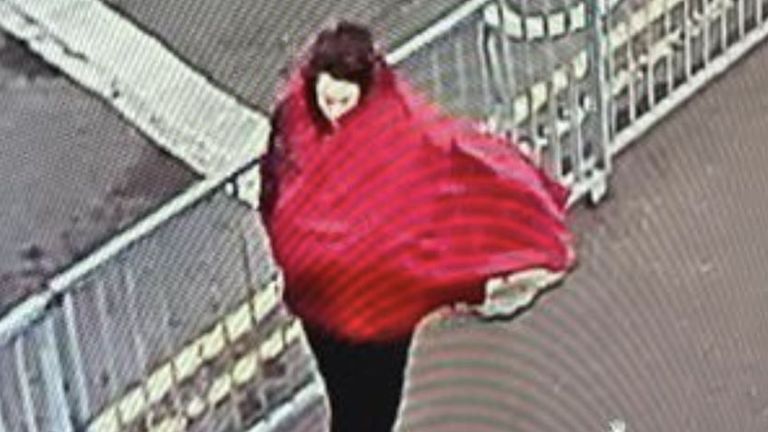 The couple are also believed to have been spotted in Colchester.
"Our concern is to make sure Constance, Mark and baby are safe and well," GMP said.
Couple seen in east London
The Metropolitan Police reported a sighting of the couple in east London.
The force shared CCTV showing Ms Marten, with a red shawl around her head, and Mr Gordon, with his head lowered and appearing to be wearing a beanie hat, at East Ham station in Newham, east London, on Saturday 7 January.
Police believe the couple, who were at the station sometime between 11.45am and 12.30pm, took a taxi from Essex.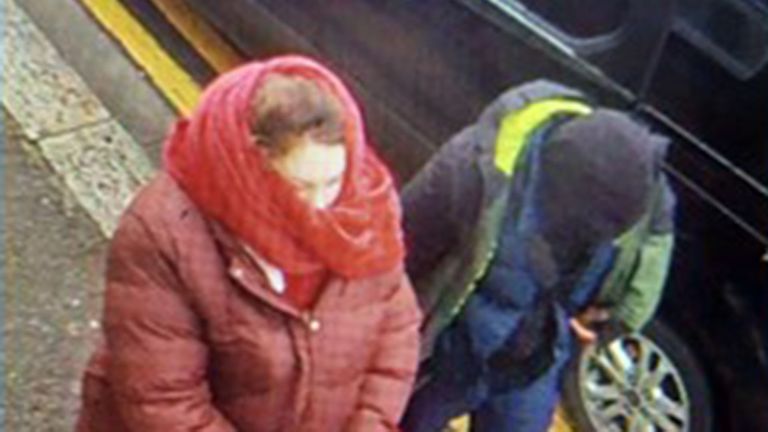 Direct appeal to parents
The Met Police have now taken over the investigation and are continuing to search for the whereabouts of the couple and their baby.
Detective Superintendent Lewis Basford, who is leading the investigation, said: "It has now been more than a week since Constance and Mark's car broke down on the M61, and we are growing increasingly concerned not only for their welfare, but for the welfare of their newborn child.
"Being on the move for a week must be exhausting for new parents and a newborn baby.
"Constance and Mark, I appeal directly to you, please think of your baby's health and wellbeing and get in touch with us so we can ensure your child is medically well and has no underlying issues.
"Please do this for your child. You wouldn't be able to forgive yourself if they became poorly. All we want to do is help you and your baby."
He added: "This is a fast-moving investigation and we have a number of officers from across the Met carrying out urgent enquiries to find Constance, Mark and their baby.
"The help from members of the public has been invaluable over the past week, and I would appeal to anyone who believes they have seen Constance, Mark or their newborn baby – either in London or further afield – to contact us without delay.
"Together we can ensure they and their newborn baby are safe and well."