Life-threatening blood cancers may become harder to treat due to a steep decline in potential stem cell donors, charities have warned. 
According to DKMS UK, a leading stem cell register, the number of people registering their genetic information has more than halved since 2019.
"The more people there are on the registries the more likely it is that we will find a donor for a patient," said Dr Katherine Patrick, a consultant paediatric haematologist at Sheffield Children's Hospital.
"But not just a donor – a perfectly-matched donor."
About 2,000 people a year in the UK are diagnosed with a condition that will require a life-saving stem cell transplant.
This means taking healthy stem cells from the blood or bone marrow of someone who is a genetic match and transferring them to the patient.
Elsie Cartwright, four, was diagnosed with very severe aplastic anaemia in February 2022.
It's a rare condition that stops the bone marrow from producing any new cells, meaning that Elsie had little to no immunity to fight off infection.
He mum Laura said: "The last infection she had she was given everything; everything was thrown at her.
"And we were sort of sat down and we were told that they were doing everything, and that it was make-or-break really.
"I remember saying to our consultant, 'I can't see her go through another infection like this, I don't think she'll make it'.
"She just agreed."
A stem-cell transplant was Elsie's best chance of survival.
Her younger sister, Mya, was not a genetic match, but doctors at Sheffield Children's Hospital were able to find a stem cell match on the UK stem cell donor register.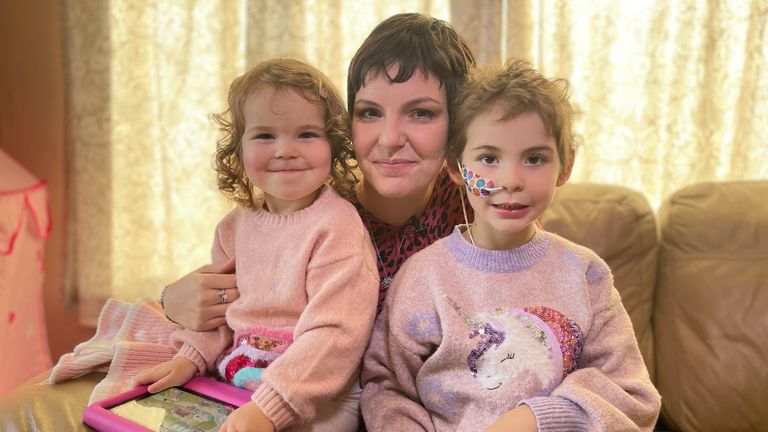 The donor, who remains anonymous, was contacted and agreed to a procedure to extract stem cells.
These were then transplanted into Elsie in May 2022.
Laura said: "Without having the transplant, Elsie wouldn't have been here, essentially.
"She couldn't have survived without somebody else's immune system, and someone else's bone marrow.
"They've no idea who we are, what it means to us. Even how old Elsie is. It could be anyone.
"All they've done is donate their cells and they've saved her life. It's an incredibly selfless act from a stranger."
Dr Patrick said: "Getting on the register is very straightforward and it's nothing that people need to be frightened about.
"You can sign up on the DKMS or Anthony Nolan's website and you simply fill in your details, and they send you back a swab to get some DNA and then send that back."
Peter McCleave, 44, has been waiting to find a genetic match since 2017.
The father-of-two was diagnosed with an incurable blood cancer, myeloma, and given seven years to live.
"I'm still looking for that stem cell donor match," he said. "I know that they are out there."
But Mr McCleave's southeast Asian heritage means it's harder to find a genetic match.
"If you're white European you've got north of 70% chance of finding a stem cell donor match," he said.
"But for any other minority ethnic group your chances of finding a live-saving genetic match drop to best 37%."
He added: "You can potentially save someone's life through nothing more than a cheek swab, it's not invasive, it's not painful.
"We can each help one another through a simple cheek swab."