Teachers across Scotland have been offered the 'largest pay package in more than 20 years' in an effort to end a dispute over wages.
The Educational Institute of Scotland (EIS) has been embroiled in a salary feud with the Scottish government and Convention of Scottish Local Authorities (COSLA) over the past year.
A number of strikes have been held across Scotland since November, including targeted action.
On Friday, the Scottish government confirmed that the new 28-month deal – the sixth offered to unions – is made up of a 7% rise between April 2022 and March 2023, a 5% uplift between April and December 2023, and a 2% increase between January and July 2024.
The Scottish government claimed cumulatively, the deal amounts to an uplift of 12.4% by April 2023 and 14.6% from January 2024.
If accepted, it would reportedly amount to a cumulative wage rise of 33% for most teachers since January 2018 and would bring the starting salary for a fully qualified teacher to £38,650 after probation by January 2024.
It would also mean an overall increase of more than £6,100 for the 70% of classroom teachers who are at the top of their main grade pay scale.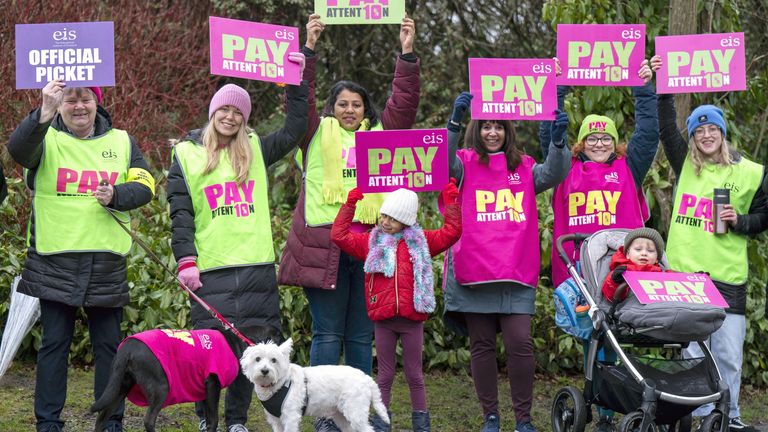 'We have looked for compromise'
The Scottish government said it was the "largest pay package in over 20 years".
Education Secretary Shirley-Anne Somerville said: "Teachers make an invaluable contribution to the lives of our children and young people. This historic offer, if accepted by unions, would see teacher pay increase by 33% from January 2018 to January 2024.
Read more:
Ambulance and NHS strikes suspended as unions agree talks with ministers
Teachers 'won't back down' as councils warn of jobs risk
EIS argues there has been 'plenty of talk but little action'
"We have looked for compromise and we have arrived at a deal that is fair, affordable, and sustainable for everyone involved. The Scottish government is supporting this deal with total funding of over £320m across this year and next.
"This reflects our commitment to reach a fair agreement and avoid further disruption to children and young people's education.
"I hope that teaching unions will now give their members the opportunity to consider this new offer and to suspend the planned industrial action next week. This would minimise any further disruption to learning, particularly in the run-up to the SQA exam diet."
Unions are currently considering whether to put the offer to members and suspend upcoming strike action.
On Thursday, EIS General Secretary Andrea Bradley said the two sides were within "touching distance" of an agreement.
Sky's Ashish Joshi speaks to health workers who are conflicted with the RCN's decision to enter talks with the government

She added: "Ultimately, should a suitably improved offer be received that we can credibly put to our members, strike action would be suspended to allow for consultation, and it would then be for members to decide whether to accept that offer."