Prince William has made his first visit to the 1st Battalion Welsh Guards, to attend their St David's Day parade.
The Prince of Wales addressed troops, at Combermere Barracks in Windsor, for the first time since becoming colonel of the regiment in December.
William was bestowed the title by the King, who previously held the rank before becoming monarch.
As is tradition for the parade, the prince presented leeks, which feature on the cap badge of the regiment, to the officers and guardsmen.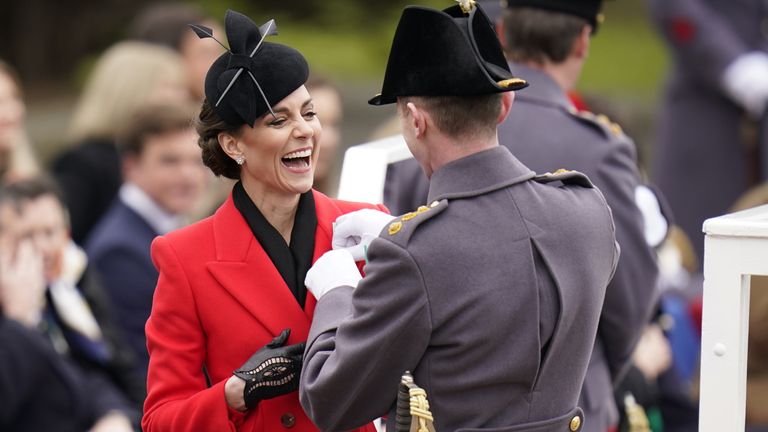 Read more:
St David's Day: Wales celebrates
Princess of Wales launches childhood campaign
He also met with members of the 5th Royal Australian Regiment and spoke to them about their role in training Ukrainian Armed Forces in the UK.
William was joined by his wife, Kate, the Princess of Wales, during today's parade.
In a post on the couple's Twitter page, he wrote: "Honoured and delighted to be the new Colonel of the Welsh Guards and to join friends, families and loved ones for the St David's Day parade at Combermere Barracks.
"Our friends in the 5th Royal Australian Regiment are here too and it was great chatting to them about their role training Ukrainian Armed Forces in the UK.
"Wishing a very Happy St David's Day to everyone celebrating today!"
On Tuesday, the pair took part in an endurance spin class during a visit to an Aberavon leisure centre.
The royal couple joined gym-goers at the endurance cycling session in South Wales, and were challenged to see who could cycle the furthest in 45 seconds while riding a virtual race in the Italian mountains.
Kate beats William at endurance spinning race

Kate, who was still wearing her high-heeled boots, won the race.
Away from their race, the pair toured the centre's sports hall and swimming pool, and met children from the local Tywyn Primary School, who were taking part in various indoor sports.