Prince Harry has told US television he's "stunned" the Royal Family allowed his security to be taken away.
In an interview with Good Morning America, the duke also said some of the responsibility for the breakdown of his relationship with Prince William is "without question" his, but that he has also tried hard to mend things in private.
The interview came ahead of Tuesday's launch of his autobiography Spare, which has been preceded by days of revealing leaks.
The Sussexes taxpayer-funded protection was removed when they stepped back as senior royals and relocated to North America in early 2020.
"I was stunned that my family would allow security to be taken away, especially at the most vulnerable point for us," Harry said in the GMA interview.
The couple were temporarily living in Canada at the time, with the government there also announcing they would pull their security as a result of the couple's changed status.
Harry's lawyer said last year that the prince had "inherited a security risk at birth, for life" and that his family had "been subjected to well-documented neo-Nazi and extremist threats".
The prince also took the Home Office to court in 2022 over the decision to not allow him police protection when returning to the UK – even if he paid for it himself.
Speaking about the couple's big decision to step back as senior royals – dubbed 'Megxit', Harry told GMA he believes the Queen was "sad"- but that she never told him she was angry.
"I had many, many conversations with her both in the UK, over the years and in the run-up to the point of this change, so it was never a surprise to anybody, least of all her," he said.
"She knew what was going on. She knew how hard it was. I don't know whether she was in a position to be able to change it."
Harry said his suggestion to move to Canada but still serve the Queen was refused by the family.
Interviewer Michael Strahan asked him if there was any compromise suggested. The prince replied: "No – which was really sad because I still to this day believe that this was entirely possible."
Harry hopes to be 'joined at hip' with William again
Leaks from Harry's book have laid bare the state of his relationship with his family, with claims including that his brother Prince William physically attacked him.
But Harry told GMA that he still hopes to rebuild those ties in future.
"If we can get to the point of reconciliation, that will have a ripple effect across the world," he said.
"I genuinely believe that, and that's kind of what is pushing me. And if that doesn't happen, then that's very sad."
He also said he believes Prince William is jealous of the greater freedom he has due to not being heir.
"But I have more freedom than he does, right?" he told the US show. "So his life is planned out for him. I have more flexibility to be able to choose the life that I wanted."
Harry later added: "I hope that we will be joined at the hip again."
Prince Harry has accused royals of getting into bed with the devil

"Because, you know, if there's something that will terrify the British press more than anything, it's William and I being aligned."
Read more:
Flack's ex-agent hits out at Harry for repeating 'long forgotten slurs'
The biggest revelations from Harry's memoir
Afghans call for Prince Harry to be 'put on trial'
The Good Morning America interview follows the prince dropping more incendiary claims in an interview with ITV on Sunday night.
He told presenter Tom Bradby that members of the Royal Family had got in "bed with the devil" over their links with the tabloid press – and admitted Meghan did not get on with William and Kate "from the get-go".
However, he insisted he did not have "any intention to harm" or "hurt" his brother or King Charles.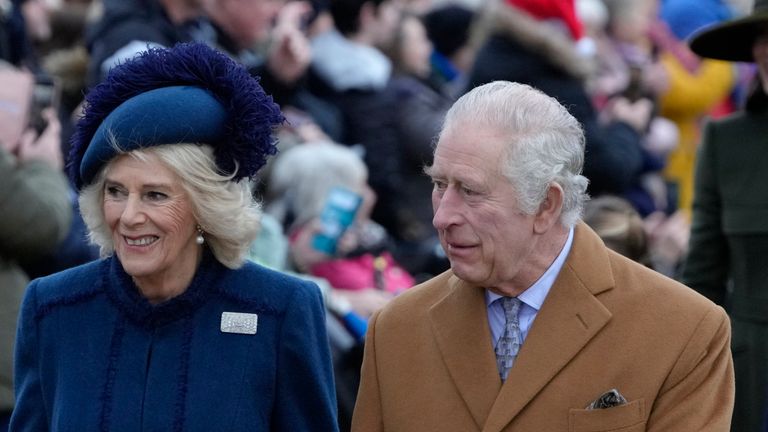 Harry also denied that accusations of racism were made towards the royals when he and Meghan were interviewed by US TV host Oprah Winfrey in 2021.
And, speaking separately to US show 60 Minutes, Harry said his stepmother Camilla, the Queen Consort, was once viewed as "the villain" and revealed he was still not speaking to William or Charles.
The King's former communications secretary between 2009 and 2016 told Sky News she believes he will be left feeling "very, very sanguine" by Harry's claims.
Kristina Kyriacou said: "Of course there will be disappointment, of course there will be extreme sadness. And I think, when the book came out, surprise – less so the Netflix series – but the book seems to have gone too far."
She said the claims about the Queen Consort would "sting", but that she believes the way Camilla is portrayed seems unrecognisable and that some of Harry's narrative appears "fanciful".
"It is backfiring slightly," added Ms Kyriacou about the book.
"Firstly, I feel they're lamenting too much. And secondly there are bigger issues at play here across the globe…
"They're not thinking through some of the things they're putting into the public domain. Why would anyone want to say how they lost their virginity? Why would anyone want to comment on the amount of people we've killed in a war?"