Lindsey Hill is lying in a hospital bed drifting in and out of a medicine induced sleep. She is also very tired, her body is fighting a serious lung infection.
She is 40 years old. You cannot tell this by looking at her as her blanket is pulled up to her chin and a tumble of brown falls to her shoulders.
You can hardly see Ms Hill's face. It is obscured by the oxygen mask she needs to breathe.
It is still a struggle. Her breath is short and shallow and her words are barely audible.
I ask Ms Hill: "Is this the first time you've been in hospital this winter?"
She replies: "Yes, it is, but I was here three times last year."
That's because Ms Hill suffers from multiple chronic conditions and requires complex care.
Usually she is monitored remotely but nine days ago she was rushed to hospital as a category one emergency.
I ask her if the ongoing crisis in the health service has made her feel anxious because it might impact on her treatment.
She says: "I have but I feel support for the workers because they deserve the world."
The demand feels endless
Her consultant Dr Asad Ali says extra community support for patients like Ms Hill helps to ease the pressure. But the demand feels endless.
I ask him: "How do you cope with an ageing population with complex medical problems on the resources that the NHS has?"
Dr Ali tells me: "Resources are limited… and with us all living longer and living with more complex conditions means yes, we do need more resources to provide care, but we also need to do an appraisal of how best we are utilising our resources and whether we can get more value."
Since the pandemic respiratory services have been flat out. And there's no end in sight.
I was here in University Hospital Coventry in December 2022, at the height of the flu season. Every bed, in every bay was taken. Since then flu cases have peaked but every bed in every bay is still taken. They're still at 100% capacity. The winter pressures don't simply go away.
And these pressures have long-term impacts. More than seven million people are waiting for elective care in England. A list that was too long before the pandemic and has only become longer. Hospitals like Coventry are looking at innovations to help them to cope and make headway on elective backlog.
Read more special coverage:
Proposals to make some NHS patients pay for care spark backlash
How many spare beds does your nearest hospital have?
Where – and why – there are long waits for emergency care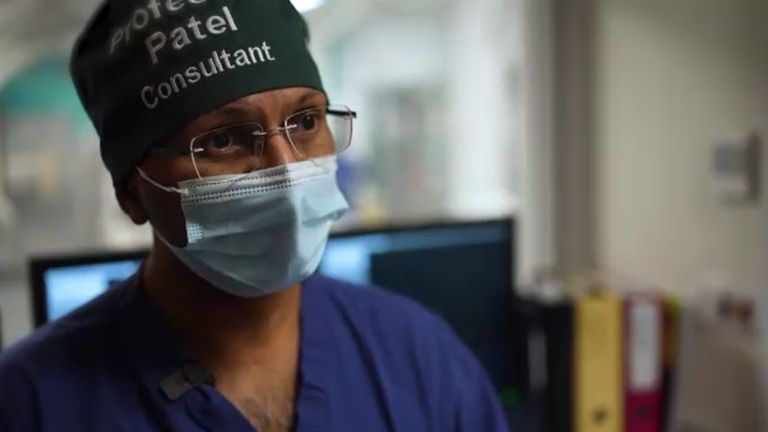 Pandemic has forced change
The hospital's chief medical officer, Professor Kiran Patel said the pandemic had forced change, some for the good.
"We mustn't miss the opportunity that a crisis affords to us and one of the benefits is that it will force us to transform the way in which we deliver health care," he said.
"We will need to get better at knowing where our demand comes from, what it looks like. So we need to move from being a reactive health service to being a responsive health service, and ultimately being a predictive health service."
Until that time, patients will keep coming. Across England more than 10,000 patients were brought to an NHS A&E by ambulance every day. Handover times are at record highs despite staff doing everything they can to diagnose, admit and treat people quickly.
And doctors like Ed Hartley want long-term solutions, not short-term fixes.
"Short-term projects to put a holding pen for ambulances outside the A&E doesn't fix the NHS," he said. "Short-term projects to help buy some hotel rooms for care home patients or patients who need to leave hospital doesn't fix the NHS.
"Long-term investment in the workforce, long-term investment in the right size of hospitals, and recognising the care sector as a rewarding career with progression, and presumably appropriate pay, will go a long way to helping the NHS."
Ms Hill hopes she can go home soon. Her needs are long-term, complicated, and challenging. The same as the health service she relies on.