Millions of low income households are to receive a £900 cost of living payment starting this spring.
More than eight million people received payouts in 2022 to help with spiralling energy costs, caused in part by Russia's war in Ukraine.
And now, the Department for Work and Pensions (DWP) has announced the next round of support.
The £900 is for eligible means-tested benefits claimants, including people on Universal Credit, Pension Credit and tax credits, and will be paid directly to bank accounts in three payments, the DWP said.
There will also be a separate £150 payment for more than six million people with disabilities and £300 for over eight million pensioners to supplement their Winter Fuel Payments.
The first payment of £301 will be made in spring 2023; a £150 disability payment during summer 2023; a £300 second cost of living payment in autumn 2023; a £300 pensioner payment during winter 2023/4; and a third cost of living payment of £299 made in spring 2024.
However, fuel poverty campaigners are angry the amounts have not increased from last year.
Simon Francis, co-ordinator of the End Fuel Poverty Coalition, said: "This winter we have seen over nine million adults living in Dickensian conditions in cold, damp homes.
"Yet despite energy bills increasing by 20% from April 2023, the support for the most vulnerable announced by the government has not increased from last year.
"In fact, with the end of the Energy Bills Support Scheme looming, households will be worse off than they were this winter."
He said the government must "go further" not just financially but also in regard to the forced transfer of households on to more expensive pre-payment meters.
Read more:
'Groundhog year': Cost of living crisis to deepen in 2023, warns think tank
Chancellor Jeremy Hunt acknowledged these were "tough times for families across the UK" but argued the payouts were "on top of above-inflation increases to working-age benefits and the energy price guarantee, which is insulating millions from even higher global gas prices".
Work and Pensions Secretary Mel Stride said: "We are sticking by our promise to protect the most vulnerable and these payments, worth hundreds of pounds, will provide vital support next year for those on the lowest incomes."
Scammers
Payments to those who are eligible should be automatic, so there will be no need to apply.
But people should watch out for scammers sending fake cost of living messages attempting to trick people into handing over their personal information.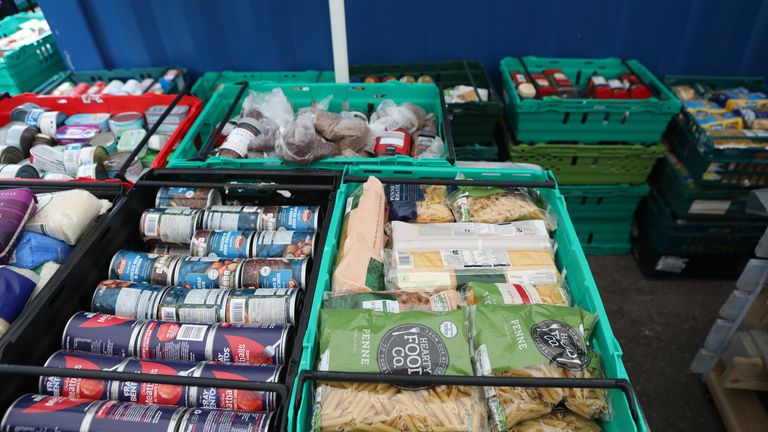 Claimants who are eligible for any of the cost of living payments and receive tax credits, and no other means-tested benefits, will receive payment from HM Revenue and Customs (HMRC) shortly after DWP payments are issued.
Benefits, including working-age benefits and the state pension, will rise in line with inflation from April 2023, ensuring they increase by over 10%.
Analysis:
The collapse in disposable income will be about as grim as you can imagine – so why is the government embracing it?
Wage increase
April will also see the biggest ever cash rise to the National Living Wage, bringing it to £10.42 an hour, the government said.
The 2022 support package included a £650 cost of living payment for means-tested benefit claimants, split into two payments, plus payments for people with disabilities, and pensioners.
A £400 energy bill discount for households will continue to run through March.
Recent research from accountancy giant PwC and credit app TotallyMoney indicated 8.9 million adults are showing signs their finances are teetering on the brink – meaning they may need to use their overdraft to cover everyday spending and essentials such as food.