Human remains discovered in a pond in Essex were likely to have been there for "several weeks", police have said.
The remains were found in Oakwood Pond in Harlow on New Year's Eve after a member of the public reported a suspicious object in the water.
A murder investigation has been launched.
Detective Superintendent Rob Kirby said it was "too early" to establish the identity of the person found.
"At this stage, it is too early to be able to identify who the victim is, and that includes things such as the sex and ethnicity of the victim. Some witnesses have indicated that the human remains have been there for some time."
Pressed on if this meant days, weeks or months, he said: "I think the indication is several weeks, currently."
Police were called shortly before 2pm on Saturday following the report of a suspicious object and forensic officers have confirmed them to be human remains.
Mr Kirby declined to disclose what body parts had been found.
He added: "This person is someone's loved one, someone's family member, and they will have questions about how and why they were killed.
"We are committed to finding out what happened, and who is responsible, and will work relentlessly to bring those responsible to justice."
Forensic tests are due to take place this week, which will determine characteristics such as the age, gender and ethnicity of the victim.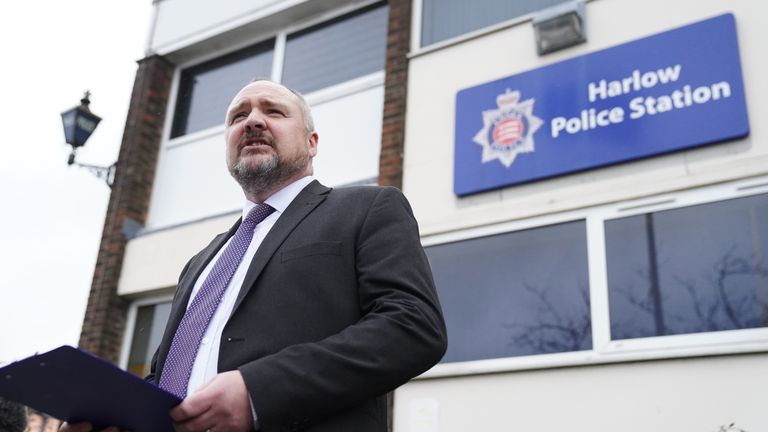 Leader of Harlow Council, Councillor Russell Perrin, said he is "shocked and saddened" by the "awful situation".
A cordon has been in place around the pond since the remains were found.
Mr Kirby said searches around the area, in Fourth Avenue, may include draining a pond as specialist officers search for "potentially crucial" evidence.
There will be an increased police presence in the area "for several days to come" due to the "complex" operation of draining the pond.