A man has been found guilty of murdering another man outside a sandwich shop after a row over an e-scooter.
Lawangeen Abdulrahimzai, 21, stabbed Thomas Roberts, also 21, outside Subway in Bournemouth, Dorset, in March last year.
Mr Roberts had been acting as a peacemaker after his friend, James Medway, got into an argument with Abdulrahimzai over an e-scooter they both wanted, Salisbury Crown Court was told.
Abdulrahimzai, who arrived in the UK as an asylum seeker from Afghanistan in 2019, had admitted manslaughter but was found guilty of murder by majority verdict on Monday.
After the verdict, it was revealed that Abdulrahimzai fatally shot two people in Serbia in 2018. He was sentenced to 20 years in prison in his absence.
During his UK trial, the jury was told the defendant had claimed the scooter for himself and left it propped up against the window of Subway in the early hours of the morning.
The altercation between him and Mr Roberts – which lasted 24 seconds – involved the victim slapping the defendant in the face.
Abdulrahimzai then pulled out a knife he had hidden and stabbed Mr Roberts twice, the jury was told.
Dropped phone identified murderer
He then fled to some nearby woodland, burying the knife, his trousers, a jacket and an Afghan flag that he was wearing as a scarf.
But his mobile phone fell out of his pocket on the way, allowing police to trace it to his home address.
When he was arrested Abdulrahimzai told authorities he was 16, but it was determined at the time that he was in fact 20.
In mitigation, he said his parents had been killed and he had been tortured by the Taliban, which is why he carried a knife for self-protection.
But in the months before the incident, Abdulrahimzai shared pictures of himself posing with a large knife on TikTok.
He had also been seen carrying a knife by his foster parent, who had warned him not to, along with police and social workers who had stressed to him the dangers of carrying a knife.
Read more from Sky News:
Man goes missing off Scottish coast
Fire breaks out at former department store
A family statement described Mr Roberts as a "bright young man with a sense humour, an active sportsman and loved his DJing in his spare time".
"Thomas was a normal, kind person, who had enjoyed life. On the night of his tragic death, he was in town with friends having a good time when he was suddenly involved in an incident involving a large knife that cost him his life.
"The family would like this to be a warning to everyone not to carry knives so other families do not suffer in the way we as a family are suffering now."
Detective Chief Inspector Simon Huxter of Dorset Police added: "This case serves as another reminder of the truly devastating consequences of knife crime.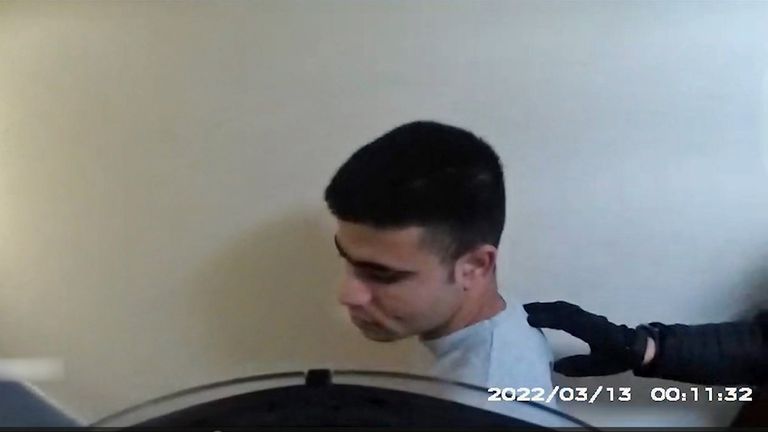 "Lawangeen Abdulrahimzai's decision to go out in possession of a knife on the night of this murder and his utterly indefensible decision to use that weapon has seen a much-loved young man's life cruelly taken away."
Abdulrahimzai will be sentenced at the same court on Wednesday.