King Charles's coronation and volunteering day will emphasise the cost of living crisis and how the British public can help, according to a royal expert.
There had been suggestions that events on the three-day weekend in May should be scaled back to acknowledge the current economic difficulties many are facing.
But Alastair Bruce, a former officer of arms of the Royal Household, told Sky News that "the big help out", planned for Monday 8 May, is central to what "the King wants to emphasise" in his reign as the cost of living crisis continues.
"The nation has a tradition of recognising that no matter what may come, good or bad, we have a story that is part of our nation that continues," he said.
Read more: 'Celebration and pageantry' – everything you need to know about the coronation
"[The coronation] can be used to act as a cohesive opportunity to galvanise people to support those who are having a tough time.
"The great help out is there in order to encourage people who have celebrated over the previous two days to come out and do something for their community, to engage with the action.
"I think in doing that, more people will become aware of the incredible amount of effort that is being made on behalf of those who really need it.
"One of the great strengths of any nation is that it has a community and people who engage and support whatever the challenges are.
"During the Second World War, everyone came to play their part during the difficulties of the Blitz and everything else but we're in a sort of economic war at the moment and I think that the King is very aware of that.
"It would be a wonderful legacy if people continue in that work after the big help out."
Buckingham Palace has announced details of the planned events, which will feature the coronation ceremony, grand procession and Charles's first balcony appearance as King on Saturday 6 May, a concert featuring global stars on Sunday 7 May and the day of volunteering on Monday 8 May.
Click to subscribe to the Sky News Daily wherever you get your podcasts
Mr Bruce said that while the ceremony "will have its reflections" in the 1953 coronation, he expects the celebrations to be modernised.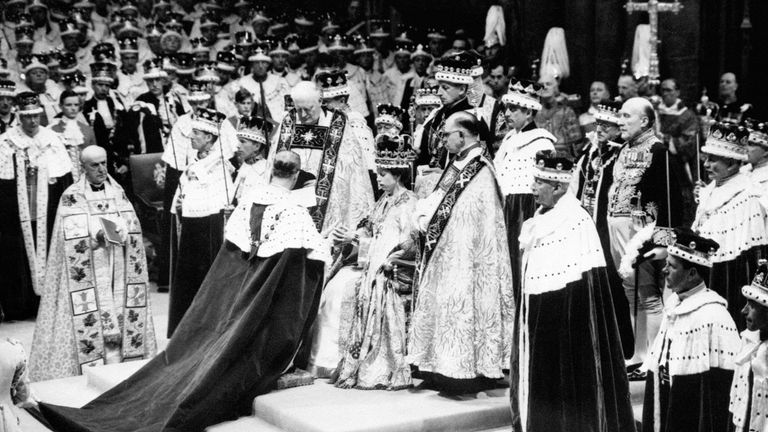 "It will be a very different environment through which they process. We live in different times and I think all of that will be reflected."
Read more:
Why will Camilla be crowned?
Coronation will show King wants to be in touch with modern Britain
He also said that the visual choreography of the three-day weekend will highlight the importance of working members of the Royal family to the King.
"I think that he will want to make sure in particular that his heir, the Prince of Wales and the Prince of Wales's children will be very much close to him and the Queen Consort," Mr Bruce said.
"It's a visual opportunity to explain to us all where the destiny of the inheritance goes."