CCTV footage captured near the scene of a shooting outside a memorial service in London shows the sense of panic in the area as people fled the scene screaming.
In the video obtained by Sky News, a loud bang can be heard and a dark car is seen driving down Phoenix Road, near Euston Station.
Following the bang, people can be heard screaming and are seen running away.
Six people, including a seven-year-old girl who remains in a critical condition, were injured in the drive-by shooting outside St Aloysius Church on Saturday afternoon.
The CCTV footage was captured from Wellbeing Walk, an alley near the church.
Police believe the suspects fired a shotgun at mourners from a black Toyota at about 1.30pm before driving away from the scene. Officers are searching for a 2019 model black Toyota C-HR.
The seven-year-old girl injured in the attack remains in a stable but critical condition, while a 48-year-old woman suffered potentially life-changing injuries.
A 12-year-old girl and three other women aged 21, 41 and 54 were also injured in the attack.
The 12-year-old suffered leg injuries but has since been discharged from hospital, police have said. She is expected to make a full recovery.
The shooting took place after a requiem mass was held in memory of 20-year-old Sara Sanchez and her mother, Fresia Calderon, who died within a month of one another in November.
Panic inside church after shooting

Ms Sanchez died following a battle with leukaemia, while her mother Ms Calderon died suddenly from a rare blood clot on arrival at Heathrow from Colombia, MyLondon reported.
Parish Priest Father Jeremy Trood, the priest who conducted the service before the shooting took place, described the scenes as "pandemonium".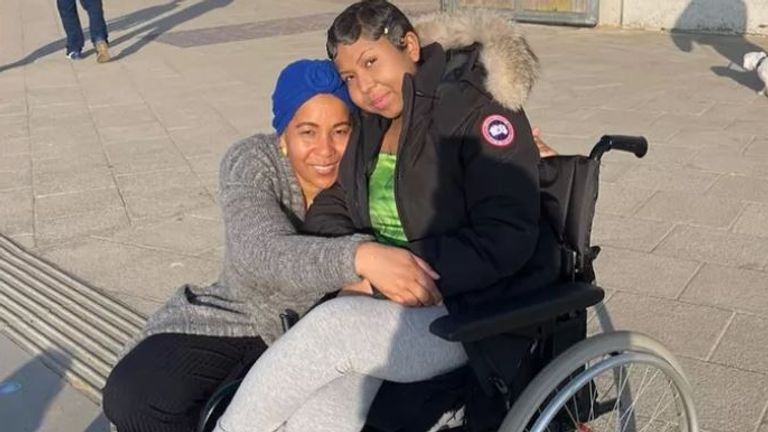 He told Sky News he heard a loud gunshot shortly after mourners left the church to release doves outside before people started rushing back into the building.
Superintendent Jack Rowlands, from the Metropolitan Police, described the incident as a "senseless act of violence" as the hunt for the gunman continued on Sunday.
The force has asked for witnesses to contact police with any information.
Superintendent Rowlands said "a significant number of specialist detectives and local officers" are "working around the clock, but we also need the public's help".
People who attended the memorial service at the church in Phoenix Road told Sky News they do not know why it happened.