Nearly 100 charities and organisations are calling for a social energy tariff to help low-income and vulnerable people heat their homes amid the ongoing cost of living crisis.
In an open letter to Chancellor Jeremy Hunt, groups including Age UK, Scope and National Energy Action (NEA) have warned that the withdrawal of universal energy support from April "will leave many older and disabled people in increasingly desperate situations".
The letter demands support for individuals on means-tested benefits, disability benefits those receiving carer's allowance.
The NEA estimates the energy crisis has pushed more than 6.7 million British homes into energy poverty – and believes that the number will only rise to 8.4 million households come April.
Adam Scorer, chief executive of the NEA, has told Sky News that things are about to go from "bad" to "worse".
He said: "In April what's going to happen is the support that the government's been giving everybody, but particularly vulnerable households will end.
"At the same time energy prices will jump by about 40% because the government will change the structure of the energy price guarantee and the price cap will go up.
"So we have this situation where in April a bad situation is going to get a whole lot worse."
'Price tags on everything you do'
Anne-Vivian Smith has a neurodegenerative disorder. Over the years – her condition has gradually worsened, and she has not been able to walk in 20 years.
The 52-year-old told Sky News she is having to use her manual wheelchair – as opposed to her electric one – as running costs are simply too high. Tucked away on the side of her chair are hot water bottles – to help produce warmth.
Ms Smith, who lives in Nottingham, said: "To retain heat, you've got to generate it, and if you don't move, then you don't generate any warmth.
"Every action becomes a transaction, if everything you do you obsessively look at the smart metre to see how much it costs. A shower costs over £5, cups of tea cost 17p and you just end up with price tags on everything you do."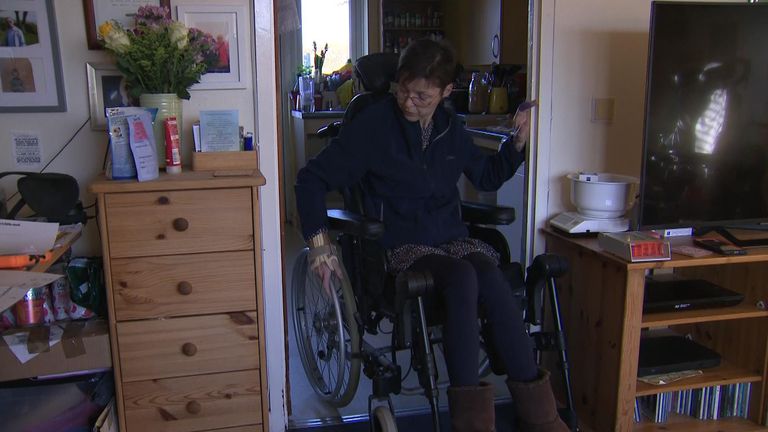 Read more:
Labour pledge to 'extend' windfall tax to protect families from soaring energy bills
Shoppers curbed Christmas spending in blow to struggling retailers
Currys boss says sales of energy saving gadgets helped offset slump
Meanwhile, Sheila Correll, in her mid-70s, says her experience is no different.
Like Ms Smith, she's having to work around her money limitations, so grows her own vegetables and takes her dog for runs, in a bid to stay warm and save money.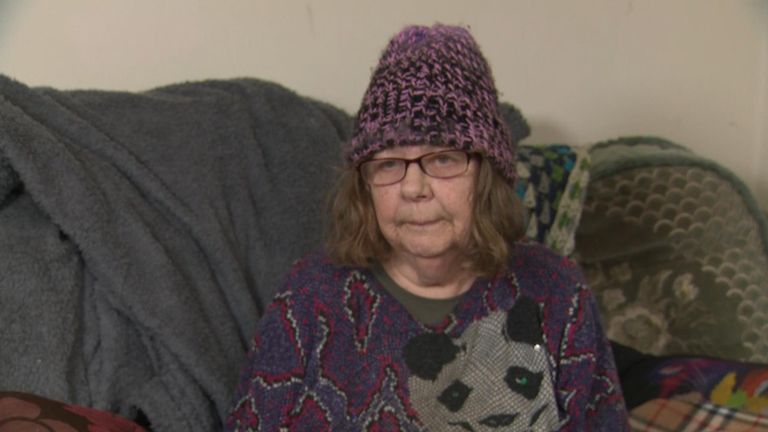 Ms Correll told Sky News: "I don't use any central heating at all because I simply can't afford it. If I was to use it, I wouldn't be able to.
"It is devastating! Not only to me, but to everyone! It's heartbreaking and should never ever happen in a civilised country, this should never be allowed to happen."
She added: "Older people, we just feel, like we're dispensable. Nobody wants to know!"
A government spokesperson said: "We know this is a difficult time for families across the country.
"That is why we have acted quickly to deliver the Energy Price Guarantee which is saving a typical household £900 this winter and our Energy Bills Support Scheme is providing a further £400 off energy bills, in addition to the most vulnerable households receiving up to £1,200.
"We are working with consumer groups and industry to assess the best long-term approach to helping vulnerable households from April."