An image has been released of actress Marisa Abela starring as Amy Winehouse in an upcoming film about the singer.
Abela, who has starred in BBC Two series Industry and Sky One drama COBRA, is due to start filming the biopic, called Back To Black, next week – which is named after the artist's famous album and song.
In the first picture released by Studio Canal UK, Abela is seen with the late singer's trademark black beehive hair, makeup and gold earrings.
"With cameras rolling from next week, we're thrilled to release this first look at rising star Marisa Abela as Amy," Studio Canal added.
Last year it was announced that Fifty Shades Of Grey filmmaker Sam Taylor-Johnson would be directing the biopic, which the production company said is about "the life and music of the legendary artist".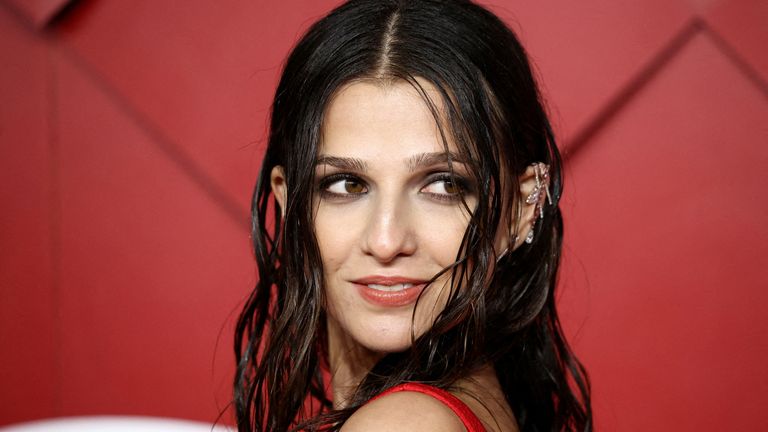 When Abela was named in the role on Friday, she shared a picture of herself near a Winehouse mural and wrote on Instagram: "I love you, Amy".
While making reference to Winehouse's speech from the 2008 Grammy Awards, Abela also wrote: "And for London. This is for London. Cause Camden Town ain't burnin' down."
Read more:
The night Amy Winehouse appeared on stage for the last time
At the 2008 Grammys that year, Winehouse won record of the year, song of the year and best female pop vocal performance, all for Rehab, along with best new artist, and best pop vocal album for Back To Black.
Winehouse, one of the defining talents of her generation, died of alcohol poisoning aged 27 at her home in Camden, north London, on 23 July 2011.
She was known for her soulful voice and songs including Love Is A Losing Game and Tears Dry On Their Own, along with her collaboration with Mark Ronson in a cover of Valerie.